Rental scams are on the rise and scam artists are more believable than ever. If you're looking for a home to rent odds are you've come across rental scams online. Years ago they use to be pretty obvious. The monthly rent would be well under market value making people question the validity of the rental ad. However, today they're fooling everyone. So how can you spot a rental scam?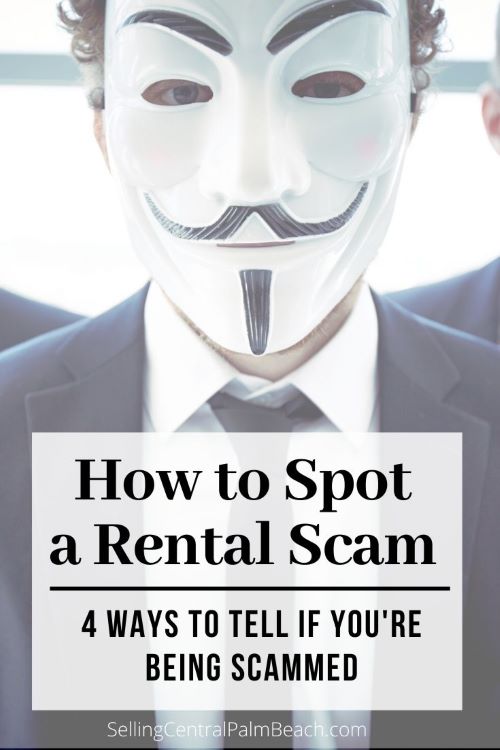 4 Ways to Spot a Rental Scam
Online Advertisement
If the property is listed "for rent by owner" with no real estate agent involved on websites like Craigslist or Facebook Marketplace there is a strong possibility it's a rental scam. Anyone can post a rental ad on an online classified website. Craigslist and Facebook are the most popular, but not the only sites to be skeptical of.
The Landlord is Unavailable and Untraceable
If you're dealing with someone who says the landlord is on a sabbatical and can't be reached that should be a red flag. Proving who the owner of the property is is vital to not being scammed. No matter where you live you should be able to find out who the property owner is by searching the public records. In Palm Beach County Florida you can go to Palm Beach Property Appraisers.
Now, this is where it can get a little complicated because the property owner may not be Jane Smith, it might be Sunshine Real Estate Investments LLC. Therefore, a secondary search needs to be done to determine the actual person(s) tied to the property. If you're in Florida this can be done at Sunbiz.org by looking for the Registered Agent Name & Address along with Authorized Person(s) Detail.
However, sometimes corporations will have other cooperations listed, which should be a red flag. Scam artists specifically target these types of properties because it's next to impossible to track down a person. If the "authorized person" on record is Sunshine Properties LLC it's easy for John Doe, aka scam artist, say he owns Sunshine Properties.
Unidentified "Representative"
If you are unable to identify who you're dealing with it might be a rental scam. These con artists are now obtaining access to the interior of homes listed for rent. So when they show up and show a prospective tenant the interior of a home they tend to let their guard down. Why would a scammer personally meet with someone? Well, most aren't too worried about getting caught, rental scams don't seem to be a top priority for law enforcement or they just send a 3rd party on their behalf.
I know you're probably asking how they obtain access to the interior of the home? This actually isn't that difficult. If the property is on a mechanical lockbox, not a supra lockbox, the code can be obtained. The scammer may break into the property and program the garage door to a remote. Another possibility is having a side or back door rekeyed by a locksmith. So if you're looking at a home for rent and it's not on a big blue supra lockbox that requires a licensed agent to open beware.
Lines of Communication
If you're only communicating with the "landlord" or their representative via e-mail it might be a scam. The same holds trued if they're using a burner phone. When you have a working phone number use it to track down the owner. If it turns out to be a burner phone that should be a red flag. Normal people aren't using burner phones to rent their property. A majority of landlords are easily traceable.
Money, But No Keys
If the "landlord" wants you to send money and in return they'll send you the keys it might be a rental scam. However, if the scammer managed to gain access to the property they may hand you WORKING keys. Yes, believe it or not, people have moved into vacant properties only to find out the true owner isn't the one who rented it to them. This is why it's so important for landlords to work with licensed real estate agents who are going to make sure the property stays secure and vacant until they find a qualified tenant.
Final Thoughts
If you're looking to rent a home don't trust anyone unless they are a licensed real estate agent. Keep all of your correspondence with the person you're dealing with and take notes. If they show you the property don't be afraid to ask to see their id. Mind you professional scammers are going to have fakes. You'll also want to write down their license plate number. This way if you do get scammed you'll have detailed evidence to hand over. Better yet use a Realtor to find your next rental.
Please consider spreading the word and sharing; How to Spot a Rental Scam | 4 Ways to Tell If You're Being Scammed
About the Author
The above real estate article "How to Spot a Rental Scam | 4 Ways to Tell If You're Being Scammed" was written by Michelle Gibson. She has been specializing in residential real estate throughout Palm Beach County since 2001. Not only does Michelle assist buyers and sellers, she assists landlords and tenants too. She would love to share her expertise and guide you through your buying, selling or renting journey.
Our brokerage services the following areas; Wellington, Lake Worth, Royal Palm Beach, Boynton Beach, West Palm Beach, Loxahatchee, Greenacres, Jupiter, Palm Beach Gardens and more.