Home inspectors are typically hired by home buyers, but homeowners hire them too. Regardless of who is hiring a home inspector the questions that need to be asked remain the same. By asking a home inspector questions upfront, during and after the inspection all parties will be better prepared.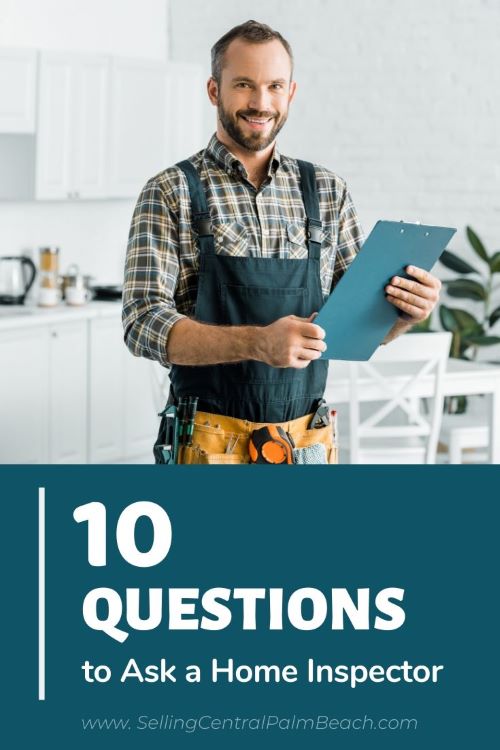 10 Questions to Ask a Home Inspector
1. What Do You Inspect?
Never assume home inspectors have the ability to inspect everything because a majority do not. In fact, no two home inspectors are alike, some will inspect swimming pools while others will not. So it's important to know exactly what the home inspector is going to inspect.
2. Do I Need to Hire Additional Inspectors?
Since not all home inspectors inspect everything it's important to ask if any other types of inspectors need to be hired. The most common items that need to be inspected by another professional are; termites, roofs, septic systems, swimming pools, mold, lead-based paint and asbestos.
3. What Are Your Qualifications?
A home inspector's qualifications and experience will vary, so it's important to ask what it is. What are their credentials? Do they hold any type of license? In addition to finding out their qualification also find out if they're bonded and insured.
4. How Long Will the Home Inspection Take?
The length of time a home inspection can take will vary. It all depends on what type of property it is, how large it is and how many inspectors will be there. It's highly recommended that buyers attend their home inspection, but really don't need to be there the entire 1-5 hours, they can simply come towards the end.
5. How Much Will the Home Inspection Cost?
Just like how long a home inspection takes the cost will vary too. It's important to know the exact cost of a home inspection, so there are no surprises at the inspection. This is another reason why it's important to know the inspector's qualifications because like most things in life you get what you pay for. Never shop for home inspectors by price, shop by qualifications. It may cost a tad more, but for most it will be well worth it.
6. Will You Go Over the Inspection Report With Me?
A majority of home inspectors will provide a detailed report with photographs, but it's always good to be shown issues first hand. So it's advised to find out ahead of time if the home inspector will stick around after the inspection to walk through the property and go over the report in person.
7. What Items Need to Be Replaced Immediately?
A good home inspector will be able to determine what items are not working properly and need to be replaced immediately. Knowing this information is very important especially for home buyers. If the HVAC or roof are on their last leg that is a big ticketed item for most buyers. Not many people have $5,000 to $50,000 laying around to make replacements before they even move in.
8. What Items Need to Be Replaced in the Near Future?
While a home inspector will never know exactly when something is going to break they can usually spot indications. If the water heater is 19 years old it's probably not going to last another 5-7 years. Knowing the age and condition of things will help them determine what people need to be prepared for.
9. Do Any Items Need to Be Further Inspected?
A majority of home inspectors have a general knowledge of things they inspect, but sometimes a specialist needs to be brought in to further evaluate. This is very common when the condition of the roof or the function of the HVAC unit is in question. By having an expert in their field further inspect will paint a clear picture of what's going on.
10. What Are the Estimated Costs?
A home inspector is never going to know the exact cost to repair or replace items. However, they should be able to provide a general estimate for most items. In fact, there are software programs that can calculate it for them. Having a rough estimate will be very helpful to a homeowner or buyer going forward.
Final Thoughts
Buyers should always hire a home inspector when purchasing a home and it wouldn't be a bad idea for sellers to do the same before they list their home. Regardless if one or both parties hire their own home inspector they need to ask questions before, during and after the inspection. By knowing what they're getting can alleviate unnecessary stress and better prepare them for what to expect. One thing people need to remember is not all home inspectors are created equal. So it's important they do their homework and hire the best, not the cheapest one with minimal qualifications and experience.
If you found "10 Questions to Ask a Home Inspector" an interesting read please give it a share!
Additional Home Buying Resources
In addition to hiring a home inspector and asking questions, there are other home-buying tips that should be followed. Learning about what mistakes to avoid, what to look for at the final walk-through and what to do immediately after closing to name a few.
Sometimes home buyers are afraid to ask questions, but if they find out what questions to ask ahead of time they can be better prepared. And this doesn't just apply home inspectors, buyers should ask their agent, mortgage lender and title company questions too.
About the Author
The above real estate article "10 Questions to Ask a Home Inspector" was written by Michelle Gibson. She has been specializing in residential real estate throughout Palm Beach County since 2001. Not only does Michelle assist buyers and sellers, she assists landlords and tenants too. She would love to share her expertise and guide you through your buying, selling or renting journey.
Our brokerage services the following areas; Wellington, Lake Worth, Royal Palm Beach, Boynton Beach, West Palm Beach, Loxahatchee, Greenacres, Jupiter, Palm Beach Gardens and more.