If you want to sell your home for top dollar in the shortest amount of time staging is key. By staging your home it will not only look it's best, but buyers will be able to imagine themselves living there. Today's homebuyer is accustom to seeing picture-perfect homes on TV, in magazines and the local competition. So staging has gotten to the point where it's no longer optional, it's expected.
So What Does Staging a House Mean?
Home staging is the process of preparing a home before listing it for sale. This means strategically arranging furniture and simplifying decor to make it appealing to the masses. This will give the seller a larger buyer pool, which means more bodies through the door and more interest in the home.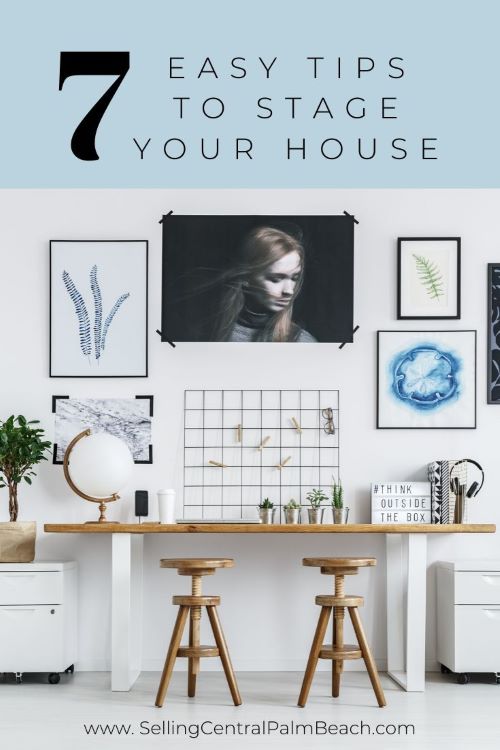 How Do You Stage a House?
Remove Clutter
Even the most organized people tend to have clutter somewhere in their house. Whether it's in a single drawer, the walk-in closet or garage clutter needs to be removed. Sometimes simply throwing items away, donating them or organizing them will be enough. However, some homeowners are busting at the seams, so they'll need to find another place to store their excess belongings. A storage unit is usually the easiest way to go.
Depersonalize
By removing clutter a house will automatically look cleaner and bigger. However, removing the stacks of clutter is just the beginning personal belongings need to be removed too. The shelf full of family photographs should be removed or switched out with a single piece of art. The kid's artwork hanging on the refrigerator needs to be taken down. The dog bed and toys in the corner, yep you guessed it they need to be removed too even if it's just for showings.
Deep Clean
Once the clutter is removed and a house has been depersonalized it needs to be cleaned. However, not just the standard cleaning, it will need a deep clean. Deep cleaning involves moving furniture, scrubbing baseboards, cleaning inside the kitchen cabinets, cleaning under and in the appliances. Basically, items that aren't cleaned weekly need to be cleaned.
Painting
Even model homes have marks on the walls and scuffs on the baseboards, which means every house could use a fresh coat of paint inside and out. Paint is one of the cheapest ways to improve a home's appearance. It can take a drab home and make it feel light, clean and fresh. Interior paint colors should always be neutral and bright because even if a buyer plans on painting the house they aren't forced to do it immediately. Most people can live with neutral colors and change them out gradually. 
Furnishings
A lot of homeowners have too much furniture, so it will need to be pared down. People should be able to easily walk through a room and not run into or brush up against any furniture. If the furniture doesn't look new or is to taste specific it needs to be removed as well. Sometimes renting furniture isn't ideal, but in some cases, it's absolutely necessary.
Fixtures
Now that the furniture is squared away the next thing to look at is fixtures, specifically lighting. Is it outdated or missing altogether? If so it should be replaced and it can be done pretty inexpensively. If a homeowner is handy they might be able to get away with spray painting them to give a fresh, clean look.
Window treatments can be included in this category as well. If they are old and outdated they need to be removed and/or replaced. Homeowners will want to keep their home light and bright, so window treatments may not always be necessary. However, specific rooms like the bedroom will need privacy, so simple clean blinds, not cheap aluminum ones can be added.
Curb Appeal
A house's interior appearance is just as important as the exterior, so don't ignore the outside. Paint the house if needed, pressure clean, trim trees, remove weeds, add fresh mulch or rocks and keep the lawn mowed. If exterior lighting is rusted out replace it and make sure all bulbs are working. Homeowners need to keep in mind when a buyer pulls up to a house they're already judging it and if the outside isn't appealing they won't even view the inside.
Final Thoughts
Every homeowner needs to stage their home prior to listing it for sale. I highly recommend contacting your listing agent and do a walk-through of the property with them. Have them create a "to do" list and what's going to be the best ROI. Sometimes staging a home doesn't have to cost a dime, it simply requires a little elbow grease.
Additional Home Staging Tips and Advice
Ugly home staging doesn't work! It's so easy to go wrong when it comes to staging a home. The key is to keep it clean and simple. Stay away from themed designs, putting area rugs, pillows and towels everywhere.
Buyers look at garages too, so make sure it's an extension of the home and staged, not a dumping ground. Making over a garage on a budget can be done especially if a homeowner does the work themselves. 
Maximizing curb appeal is key to getting buyers through the door. The exterior is usually the first photo buyers see in the property listing and it's the first thing they see when they pull up to the home. If the exterior doesn't look appealing they may night schedule a viewing of the property.
If you found "7 Easy Tips for Staging Your House" an interesting read please give it a share!
About the Author
The above real estate article "7 Easy Tips for Staging Your House" was written by Michelle Gibson. She has been specializing in residential real estate throughout Palm Beach County since 2001. Not only does Michelle assist buyers and sellers, she assists landlords and tenants too. She would love to share her expertise and guide you through your buying, selling or renting journey.
Our brokerage services the following areas; Wellington, Lake Worth, Royal Palm Beach, Boynton Beach, West Palm Beach, Loxahatchee, Greenacres, Jupiter, Palm Beach Gardens and more.