Entering the real estate market to rent a home has a lot of similarities to buying a home. One of those similarities is written offers being rejected. Yes, offers are rejected in the rental market, which often leaves a tenant speechless. They just can't comprehend why a landlord would reject their offer when they're willing to pay the rent they're asking. Sometimes buying a home can be easier than renting one because landlords tend to have more requirements than a landlord. Here are 7 reasons why a landlord rejects a tenant's offer.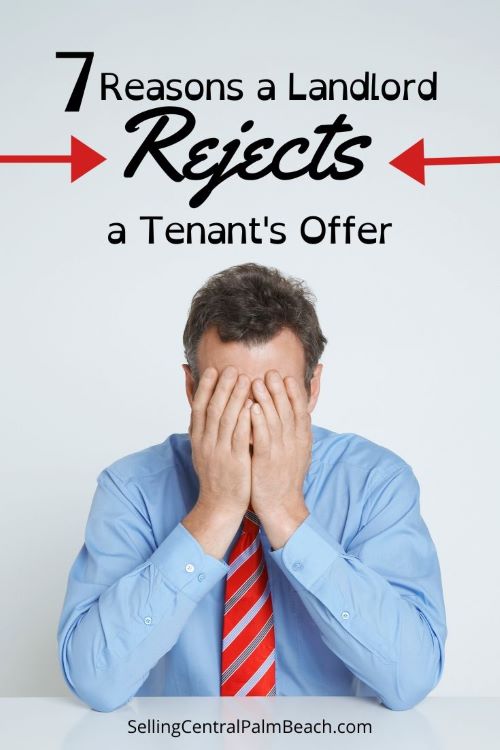 Why Does a Landlord Reject a Tenant's Offer?
Credit Score
An excellent credit score shows how financially responsible a person is. So when a prospective tenant has less than perfect credit with a low credit score their offer may be rejected. Tenants with poor credit are often seen as a risk, a risk some landlords aren't willing to take. Now, if the credit score is due to lack of credit, student debt or medical bills some landlords are more inclined to make an exception if payments were made on time. However, if their credit score is low due to late payments, bankruptcy or a lot of debt it's a red flag to landlords and the odds of them rejecting an offer substantially increase.
Lack of Income
In addition to making sure a tenant takes care of their home, a landlord also wants to make sure the tenant is financially capable of paying the rent. Therefore, most landlords want the tenant's gross monthly income to be triple the rent. So if the monthly rent is $3,000 the tenant's gross monthly income needs to be a minimum of $9,000. In most cases, the only way a landlord will accept a tenant with low income or no income is if they pay rent upfront. Sometimes the entire year's worth of rent will need to be paid. While other times a landlord will settle for 1-6 months of additional rent upfront.
Lack of Move-In Funds
One of the main differences between renting through a private landlord or through an apartment complex is the amount of money required upfront. Most apartment complexes will charge first month's rent and a security deposit, which is usually based on credit. However, private landlords tend to want first month's rent, last month's rent and a security deposit equal to one month's rent. If a tenant does not have the funds to put down a landlord may reject their offer. In areas where three months of rent are due upfront is commonplace a landlord most likely won't accept anything less.
Criminal Record
Tenants with a criminal record are more likely to have their offer rejected. Occasionally, a landlord will make an exception if the criminal record is minor, old or comes with a very good explanation. In addition to the landlord rejecting a tenant based on criminal record if the home is located in a homeowners association they may reject them too.
Eviction Record
When a tenant has been previously evicted it is a huge red flag to future landlords. It clearly shows the tenant failed to pay rent. Not only did they not pay rent, but their landlord at the time went through the headache of evicting them. Getting around an eviction record can be next to impossible and therefore tenants with an eviction record may be rejected.
Pets
Even though a majority of people have pets not all landlords or HOA's will allow them. And if a landlord is open to pets they'll usually have restrictions. Restrictions like one pet, cats only, dog less than 20 pounds. The list of restrictions goes on and on. Even the tenants with a "good dog" may still have their offer rejected.
Move-In Date
When a prospective tenant wants to move in too soon or not soon enough their offer might be rejected. It's important for tenants to look at properties that will be available within their timeframe. If a property is vacant the landlord will most likely be looking for immediate occupancy pending the approval process. In some cases, they may be willing to hold the property for 1-4 weeks for a qualified tenant. However, holding a property for months is unlikely even if the landlord doesn't have a mortgage, they still have overhead.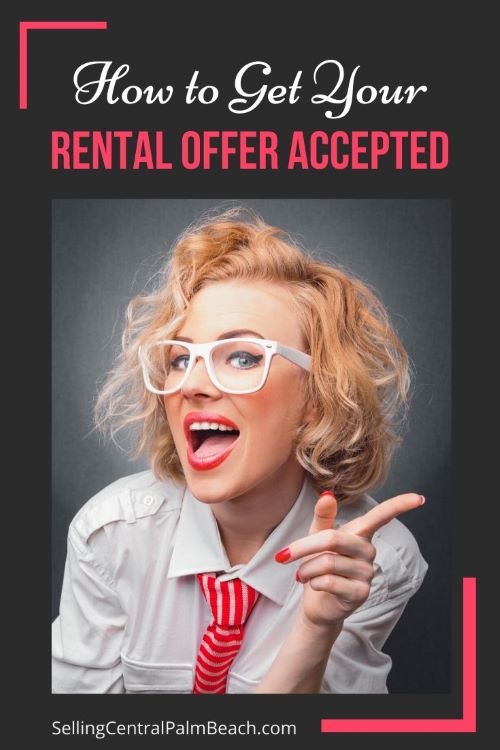 5 Tips for Getting Your Rental Offer Accepted
If you are in the rental market you'll want to put your best foot forward. Below are tips to follow when submitting an offer on a rental property.
Submit a Complete Offer Package; This should include the offer, a rental application, proof of income, pet resume, credit report, background report and an introduction letter. Don't just submit an offer with nothing else. You or your rental agent should submit everything in one e-mail.
Be Honest; Don't lie on your rental application. In the world of technology, the odds of lying and getting away with it are slim. Be honest with the landlord from the start.
Be Forthcoming; Don't keep things from the landlord, like previous evictions or a criminal record, they will find out. Write a letter explaining why your credit score is so low or why you were previously evicted.
Stay Within Budget; Only look at and apply for properties you will qualify for. Most landlords aren't going to be negotiable especially if you have poor credit, a record, not enough money or a realistic move-in date.
Include a Pet Resume; Gather pictures of your pet along with their records, which should have their age, weight and medical history. Every person is going to say they have the best pet. Offer to meet the landlord with your pet to prove how good they really are.
Final Thoughts
It's not uncommon for a landlord to reject a tenant's offer. In fact, it probably happens more than people know. Some landlords will wait months for a qualified tenant. So tenants should not be surprised if their offer was turned down especially if they have any of the issues discussed. Tenant's need to submit a winning offer by following the 5 tips listed above.
Please consider spreading the word and sharing; 7 Reasons a Landlord Rejects a Tenant's Offer
About the Author
The above real estate article "7 Reasons a Landlord Rejects a Tenant's Offer" was written by Michelle Gibson. She has been specializing in residential real estate throughout Palm Beach County since 2001. Not only does Michelle assist buyers and sellers, she assists landlords and tenants too. She would love to share her expertise and guide you through your buying, selling or renting journey.
Our brokerage services the following areas; Wellington, Lake Worth, Royal Palm Beach, Boynton Beach, West Palm Beach, Loxahatchee, Greenacres, Jupiter, Palm Beach Gardens and more.